Wives Making Waves
Aisha and Danielle Moodie-Mills sound off on politics and pop culture
For some couples, marriage might signal the start of quiet domesticity. Then there are the power couples. Bill and Hillary. Sonny and Cher. And certainly Aisha and Danielle, aka Mrs. and Mrs. Moodie-Mills.
While not D.C. natives, these dynamic women were long ago drawn to the nation's capital and its halls of power, its cadre of progressive professionals and its many platforms for executing change. One of those platforms, it turns out, is BLIS.FM's Studio 202.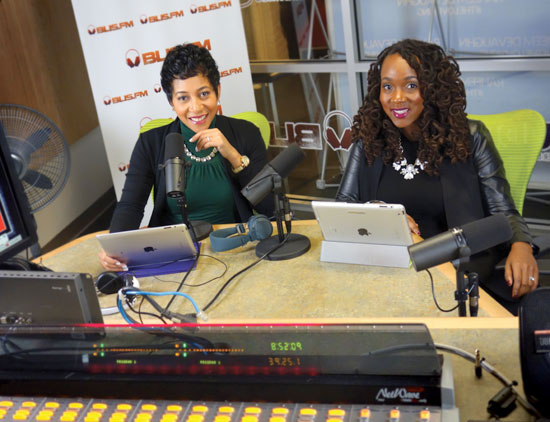 Politini: Aisha and Danielle Moodie-Mills(Photo by Todd Franson)
"We found them through a friend of ours who was also getting into the radio business," says Danielle Moodie-Mills, an advocacy professional with a background in politics and education, a SMYAL board member and a 2013 "The Root 100" honoree. "We contacted them saying, 'We've had this idea for a while, and we're really interested in seeing how we can work together."'
That idea was realized in January 2013 as Politini, their Thursday evening live-streaming show and podcast. The duo market the show as "Politics and Pop Culture served up with a twist — A twist of wit, a splash of style, and opinions straight up. From Hollywood to Poliwood (the new Washington), Danielle and Aisha Moodie-Mills, the resident Polinistas of the lifestyle blog threeLOL.com, are giving you the scoop on inside the beltway chatter and Sunset Blvd antics that are pushing our society to the brink – the brink of what, is what they'll discuss on Politini. So, grab a cocktail and join the conversation."
Beyond the marketing, Aisha Moodie-Mills, who with her wife was on the forefront of bringing marriage equality to D.C. and who works as a senior fellow at the Center for American Progress, calls the show "the personal side of politics."
"What we hope to do with our show," she says, "is to really bring to the public the sense that – beyond the surface kneejerk reaction to what we see happening in the world around us – what we see and what we hear, whether in the political discourse or in the cultural discourse, permeates our social consciousness and colors the way we view one another, the way we view ourselves and the way we engage with the world. And that matters.
"With the show, we try to get to the core of the heart behind the headlines. What's the real passion behind the politics of what we're debating? … We're just constantly getting countdowns, rundowns, sound bites, and we don't always have the space and emotional capacity to stop and say, 'What does this really mean? And why is it happening?"'
Getting behind those headlines, recent Politini topics have included "Colorless Catwalks," "Civil Rights vs. Religious Rites," and "The History of Disgruntled White Men." And while these women get behind the headlines, they also put themselves out there, literally, taking the show to audiences in the form of "Scandal Watch" parties, letting Shonda Rhimes's weekly ABC drama help fuel the conversation. There's even been enough buzz to get Laverne Cox, from the cast of Neflix's Orange Is the New Black, to stop by for the Oct. 3 launch at D.C.'s Jin lounge.
"We love Scandal," comes Danielle's playfully deadpan assertion. "We cannot stress that enough. But it was really an opportunity for us to bring our show out of the studio and to a live audience. We really wanted to cultivate community, more so than we're able to do in the studio with just the two of us and our technical producer, Emma Weinstein-Levy. It was an opportunity to get out there and be in front of people and be able to feel the energy of the crowd around a show that we really like. And we have connected with a group of African-American women who are all entrepreneurs in their own right – from music to events to PR – to really create community around this show, around black women as gladiators in suits, as 'fixers."'
The two say that Scandal points to a theme shared with Politini, which is dissecting the attraction D.C. has for them and others.
"We came here because we wanted to change the world," Danielle says of Aisha and herself. "It sounds corny, and we may get rolled eyes, but for most people inside the Beltway who are in politics, that's the reason why they came here: being a part of something that's bigger than you are. And that's kind of the energy and the passion we bring to Politini every week."
While Aisha and Danielle definitely bring the passion, one might reasonably wonder why. It might sound like they're just having fun, but producing a weekly show is work. Unpaid work. There are no salaries, no high-dollar sponsorships. Politini may be an extension of their "threeLOL" blog brand – standing for "Living Loving & Laboring OUT Loud" – but it's no cash cow. Mostly, it's just hard work.
"When we go to 'real' studios with full-on staff, productions teams and bookers and all of that, people ask us, 'Oh, who books your show?' And we just laugh," says Aisha. "We literally do it all. We conceive of the ideas on our couch, which is pretty much where we come up with pretty much everything. Through our constant conversation all week long, we come up with the show ideas. But the labor of it, we really work at our structure. It's scripted pretty well, pretty thoroughly. Danielle does an excellent job at writing the show. We do our best to have a script and some format so that listeners can follow along and know what to expect, yet also keep it very natural and impromptu. We're constantly working at it."
Danielle promises that money is the next step – or "Phase 2 of the Politini Media takeover."
"The first step was to develop a really great show, having fantastic content and really creating a structure that matched our style and our energy and our conversation," says Danielle. "Then, giving people something that they want, and then can't live without. Or don't want to live without."
With that sort of product, Aisha and Danielle are ready to look for funding, as well as broaden their distribution channels, evolving to a point where video replaces the audio offering.
"We actually call Politini a talk show without qualifying the medium," Aisha explains. "Our goal, ultimately, is to be cross-platform. … The goal is for it to be video every week."
However Politini moves into the future, Aisha and Danielle are committed to the long haul. Whatever forms that future may take – from audio to video to live events or yet-to-be-discovered platforms – that commitment is a promise to inform their audience. As Danielle says, "There's no better way to be fabulous than to be informed. And that's whatPolitini gives you."